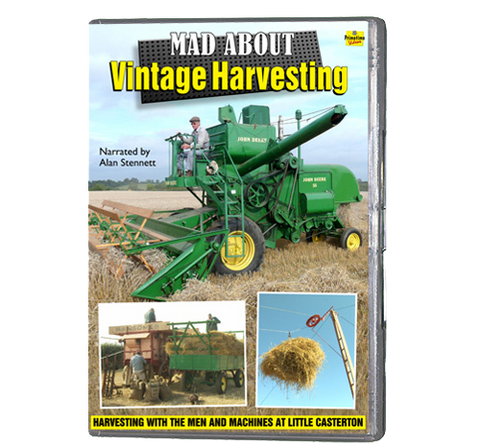 Mad About Vintage Harvesting
People Mad about Vintage Harvesting don't just collect the machines, they put them to work at events like the Casterton Working Weekend. The most interesting examples of vintage combines, threshing drums, binders, balers, pole elevators and other harvesting equipment, ranging from the days of a simple reaper  to 'modern' machines from the 1950s, were filmed over three years of the event, with comments from the enthusiasts who lovingly own, renovate and maintain them in working condition.
This DVD includes rare machines from Holt, Claas, International, Case and Massey Harris, plus a range of John Deere equipment including a 1929 12A combine; the company's first self-propelled combine, the 1946 Model No 55, and a contemporary 116W wire baler. A fine selection of equipment for anyone interested in harvesting and its history.
Narrated by Alan Stennett
Total running time 92 minutes
Colour UK PAL DVD
Aspect ration 16:9
BUY THIS WITH TWO OTHER MAD ABOUT TITLES AND SAVE £10
---
We Also Recommend