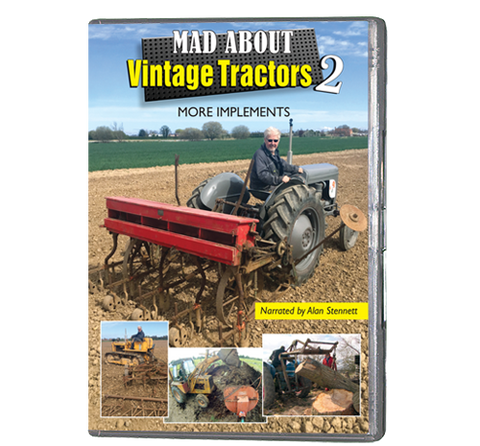 Mad About Vintage Tractors 2 (DVD 128)
MORE IMPLEMENTS
If you are as Mad about Vintage Tractors as Robbie Thorpe, you don't want to just look at them, you want to work them. For that you need implements, ideally ones of the same age as the tractors.  Robbie has been collecting those for nearly as long as he has tractors, and in this DVD we take a look at some of the kit in his collection, and some 'new' old machines as he discovers them and puts them to work.
Using at least three different Fordson tractors, a Grey Fergie, a John Deere rowcrop, a Ransomes small-holder's crawler, an International BTD6 crawler and several others, he works a variety of cultivation gear, including a Howard Rotavator, a massive Ransomes Twin-way reversible plough and a home-made duck-foot harrow.  There's also a fine old Welger baler, a Vicon Lely hay tedder, a Russell drill, a Howard Rota-Spreader and a Wilder beet topper, but perhaps the star of the show is a Catchpole Cadet beet lifter.  Seen first in a field corner, with a tree growing up through the works, we see it through to its first beet crop for many years, working alongside the very latest modern equivalent.
This is a DVD for anyone who understands how one can get to be Mad about Vintage Tractors – and Vintage Implements! Volume 1 also available and to buy as a set.
Narrated by Alan Stennett

Running time 94 mins

Colour DVD UK PAL

Aspect ratio 16:9
---
We Also Recommend