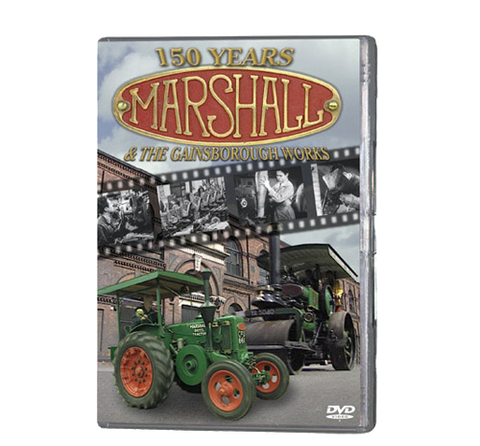 Marshall 150 Years (DVD 011)
Marshall's 150th Anniversary was celebrated at the works with a gathering of machines and enthusiasts, coming together for what may be the last time, as part of the site is being redeveloped as a supermarket. This video records that historic event, and takes the viewer inside the works as a range of Marshall machinery, from all over the country, return 'home'. Machinery on view included a full range of tractors, steam traction engines and road rollers, some of which participated in a road run, and a variety of smaller items bearing the company's famous name.
This video features ten minutes of previously unseen archive film of the Gainsborough works in full production in 1951. The foundry, a forge and several machine shops building tractors are shown, as well as line assembly and testing of Field Marshall tractors. Other film shows a Marshall threshing unit hard at work, and a First World War water pump, made by Marshall, demonstrating its post war uses in 1921.
Running time 55 minutes
Colour, B/W. UK PAL DVD
Aspect ratio 4:3
Narrated by Alan Stennett
---
We Also Recommend