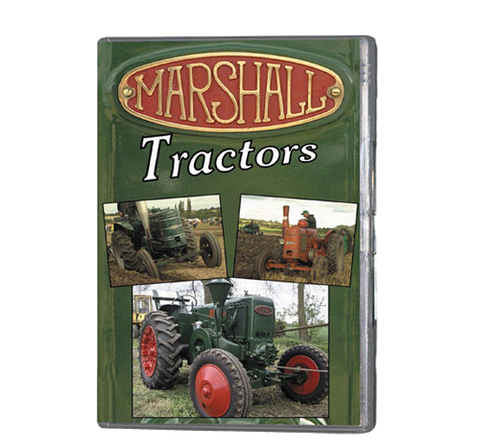 Marshall Tractors (DVD 015)
Only one tractor in the World is instantly identifiable with your eyes shut - a Marshall. The single-cylinder horizontal diesel engine that drove most Marshall tractors produced that characteristic 'pop pop' sound that stands out in any collection of vintage tractors. This video brings together a range of Marshall tractors at work and on display, with probably the only 15/30 in preservation, 18/30s and 12/20s, and a Model M driving and threshing set. The famous post war Field Marshalls can be seen at work , with a Fowler VFA - a Field Marshall on tracks - before and after restoration. The ill-fated MP6, 'a tractor ahead of its time' is also featured, to complete the coverage of wheeled Marshall tractors.
Filmed at the 50th Aniversary celebrations of the series II Field Marshall, a variety of working days and other events, and at the collection of enthusiast and dealer Robert Crawford, this production presents an opportunity to relish the sight and sound of lots of Marshall tractors and will appeal to Marshall fans, enthusiasts and anyone with affectionate memories of a popping Marshall.
Running time 54 minutes
Colour, UK PAL DVD
Aspect ratio 4:3
Narrated by Alan Stennett
---
We Also Recommend