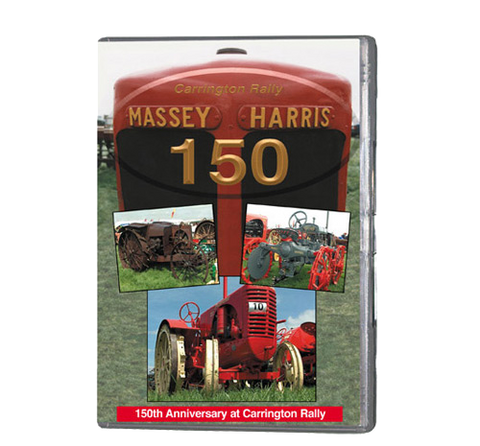 Massey Harris 150 (DVD 017)
The 150th Anniversary of Massey Harris recorded on video. Massey Harris Tractors are one of the great names in agricultural machinery. Their origins go back to 1847, when Daniel Massey set up in business to make equipment and do repairs for his farmer neighbours in Canada. From 1917 to the mid 50s, the company sold under licence a variety of tractors from the three-wheeled Bull, complete with adjustments to allow it to ride level with two wheels in the furrow and the other on the land, to the British-built 755, specially desinged for the ground-nut schemes in East Africa. In 1953 the company integrated with Ferguson to become Massey-Ferguson, which is still a major influence in agricultural in agricultural manufacture.
This official video shows all the major Massey-Harris variants, and several unusual oddities, including an agricultural twin and Frank Perkin's personal tractor, used for engine testing and work on his own farm. Other Massey-Harris equipment include the legendary 21 combine, a pulverator plough and a cultivator from the cery early days og Massey Harris itself. The programme concentrates on the 'pre-Ferguson' years, allowing a detailed look at all the major changes in design and production.
Running time 60 minutes
Colour, UK PAL DVD
Aspect ratio 4:3
Narrated by Alan Stennett
---
We Also Recommend