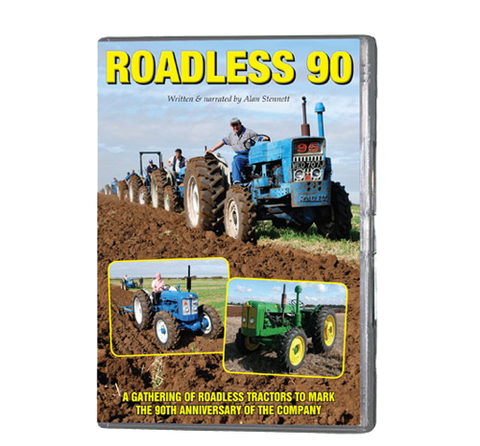 Roadless 90
Roadless Tractors Ltd. was a company dedicated to keeping things moving under conditions where they were likely to get bogged down. Using technology originally developed for military equipment in the First World War the first designed tracked vehicles to cross soft ground, tow lifeboat out to sea and move bomber aircraft around their airfields. Later, the used army surplus axles to convert conventional tractors, particularly Fords, to four-wheel drive, providing farmers with machines that got a better grip on the land for ploughing and other agricultural work. Kits were also provided for IH to convert some of its own tractors.
Sadly, the company went out of business in 1983, and although the name is still used by a successor business, Roadless tractors are now mostly used by enthusiasts who restore, maintain and preserve the machines that still remain.
To celebrate the 90th anniversary of the original founding of the company, nearly 100 Roadless vehicles were brought together on a farm at Scopwick, in Lincolnshire. Among them were and 1934 Case conversion, a WWII military half-track, the last Roadless made, and a unique Jewelltrac, assembled by the company that took over the Roadless business.
As well as being on display to visitors, most of the machines were hard at work ploughing or cultivating the land. This production features in-field action, owner interviews and descriptions of most of the models produced by this innovative company over its 64 years in business.
Running time 67 minutes

Colour, UK PAL DVD

Aspect ratio 16:9

Written and narrated by Alan Stennett
---
We Also Recommend