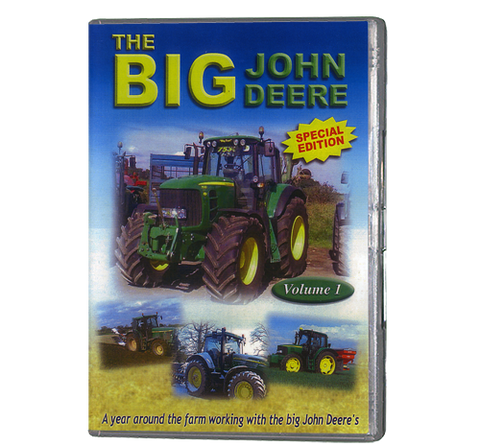 The Big John Deere 1 (DVD)
As we visit a farm in Co.Armagh with agricultural contractor, Ivan McGaw to start the first ploughing for the year, he brings along his 7820 John Deere tractor and a six furrow reversible Kverneland ED85 plough where he starts in a fifty acre field.  Then when all the ploughing is done he brings along his 6820 and 7530 tractors and work begins with the power harrow, and the sowing begins with the one pass furrow press sower and drill and then the rolling is done with a 6420 tractor and a Cambridge roller.
We next move to Ballymaguigan Co. Derry to the farm of Seamus Walls where he is spreading slurry with a John Deere 6510 tractor and a 651 front end loader, all this with a LPG 2050 Major Slurry tanker.  Not far up the road to a neighbouring farm near Magherafelt, the Pattersons who are also large agricultural contractors are preparing the ground for sowing the new crop of Maize with his son Richard who is driving a 6900 John Deere.

This film is filled with Songs, Music, Commentary and information about the every day life of the farmer and how it is getting easier in some ways, no more back breaking methods.  We hope you enjoy this film and watch out for volume 2 called 'The Big John Deere Tractor', which will show the cutting of the silage, reaping the maize and cutting the barley with the big 9560 combine.
Narrated by Brian Munn

Running time approx 60 minutes

Colour UK PAL DVD

Aspect ratio 16:9
---
We Also Recommend