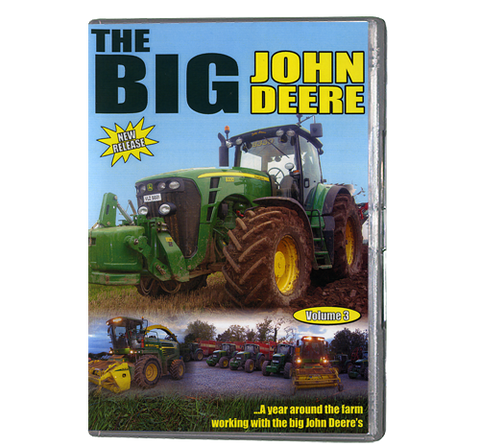 The Big John Deere 3 (DVD)
When we set out to make a DVD of John Deere tractors we didn't think it would be so successful and demanding. It seems that the tractor is so popular that it is in every third field in Ireland.

In Vol 3 we head off on the trail of the biggest John Deere in Ireland an 8430 and the first stop is Reynolds farm in Co Meath, one of the biggest potato farmers in Ireland. We see them preparing the ground with the destoners, cultivators and all with John Deeres and the planting of the potatoes and then we come back to see them dig the potatoes with the self propelled harvester and all the potato harvesters and bringing them back to the farm.

We also call at Davy Young's farm in Hillsborough in Co.Down, where local agriculture contractor Brian Horner from Carrowdore, Co.Down who covers a lot of ground across the beautiful Ards peninsula and further afield with his new John Deere 7850 self propelled harvester and his new mini quick cut head and 7 John Deere tractors, 5 of which are new this year.

We then move on to farms in Co. Meath, Armagh, Derry, Donegal, Louth and see the farmers hard at work in the John Deeres. This film also contains footage of wheat and silage and we call with Ivan Megaw and see his new John Deere 8330 ploughing, and call with the Pattersons to see their latest addition to the fleet.
Total running time approximately 60 minutes

Colour UK PAL DVD
Aspect ration 16:9
---
We Also Recommend