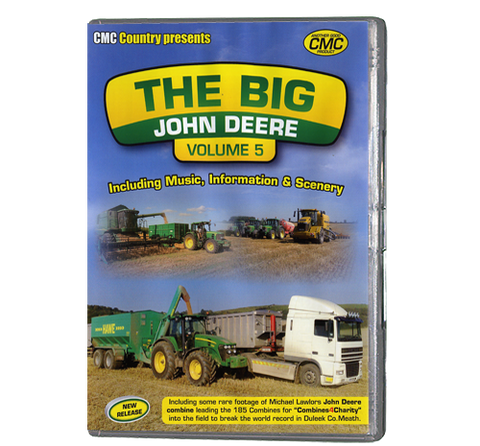 The Big John Deere 5 (DVD)
Yes it is that time of the year again, with the harvest all in and the long winter evenings approaching and the farmer and his family has a bit of time to relax and what better way to do this than sit down and watch this new film "The Big John Deere" Vol 5, and see how other farmers are getting on all over the country.
This film covers a lot of different things that go on all year around the farm, first call was in Co. Offaly where we met up with Eamonn Gaynor a young farmer from Kilruane in Co. Tipperary who was on his last day of a three week tour with his John Deere 6430 and Elephant grass planter or (Mischantus) as it is properly know which included 15 counties. Next we moved on to the farm of Farrelly Bros in Co. Meath who have over 40 John Deere's with a lot of other  machinery all over the country on sites and Motorways and even Poland and England, we see them cut and lift silage, working on the new motorways and planting the new energy crop "The Willows.

Then we call with Michael Lawlor at his farm in Duleek in Co Meath where he is cutting barley and baling before the rain comes, and he also takes us down to the 160 acre field where his John Deere T660 combine with a 23 foot header led out the 186 combines to break the world record with the proceeds going to charity and he give us some of the amateur footage that was taken on that day so we put it on this film to tell the story.
After we leave the Lawlor farm we head for lovely Laois and stop of at the Meredith farm at Stradbally where we take in some of the 1500 acres of cereal that they grow and the fine fleet of John Deere's and lorry's they enlist to take it back to the dryer at the yard just a few miles from the National Ploughing Championships site.

Once  again we head of and this time we are on the road to Neanagh in Co. Tipperary where we meet up again with Eamonn Gaynor and his father, hurling legend, Len Gaynor who was driving the tractor and trailer bringing in the grain from Eamonn at the John Deere combine and see them gather up all the straw.

Finally as we approach a 173 acre field on the Mullingar road outside Kells we meet up with father and son team Des and Roy Cunningham who are agri and plant contractor's from Carrickmacross in Co. Monaghan who own the biggest self propelled slurry injection Terragator 2244 in Ireland which is known as "The Gentle Giant Of The Slurry Scene" with its 3300 gallon tank and there are three John Deere tractors following it.

Running time approx 60 minutes

Colour, UK PAL DVD

Aspect ratio 16:9
---
We Also Recommend