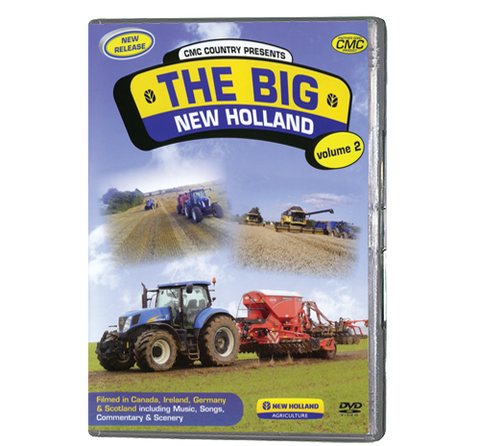 The Big New Holland 2 (DVD)
At the start of the farming year we bring you the power and durability of New Holland farm machinery in action, battling with the elements in Aberdeenshire in the North of Scotland to enable determined farmers to plough and harrow their fields and sow the crops that will survive one of the wettest seasons on record to feed the livestock and the people in the year ahead.
In the beautiful countryside around Riverstick in County Cork in the far south of Ireland, we visit the farm of Vincent Buckley and his family and enjoy the spectacle of a fleet of New Holland tractors sowing oil seed rape. Later, we return to Riverstick to witness three New Holland combine harvesters working in harmony in a race to bring in that spring wheat before the weather turns bad.
On the borders of County Down and County Antrim in Northern Ireland, we call to visit the Tate family as they prepare the ground and sow their potatoes. When they come to harvesting that crop, severe weather conditions test the mettle of both man and machinery, but those conditions are only a taste of what is to come. Harvesting the carrots in cruel conditions in mid-January takes determination, team work and, of course, the power of great farm machinery, so they call in the big Dewulf self-propelled machine to do the job in extremely difficult conditions.
In Alberta in Canada the climate is different; the crop of Lucerne, also called Alfalfa is less familiar and we see some New Holland machinery in action baleing it.  Across in Ontario on the other side of Canada, we get some insights into how the Frey family farms this beautiful bit of country. In Germany where weather conditions, are much better, we see two combines working together in the large field of wheat as they are also bringing their crops home to the farm.
Back in Ireland at the Whyte farm in north county Dublin, we see how these big cereal and potatoe growers get the job done no matter what the weather throws at them with their fleet of New Hollands.
Total running time approximately 60 minutes

Colour UK PAL DVD
Aspect ration 16:9
---
We Also Recommend